A Health Trek Along The Borders Of The Social Mission Clinic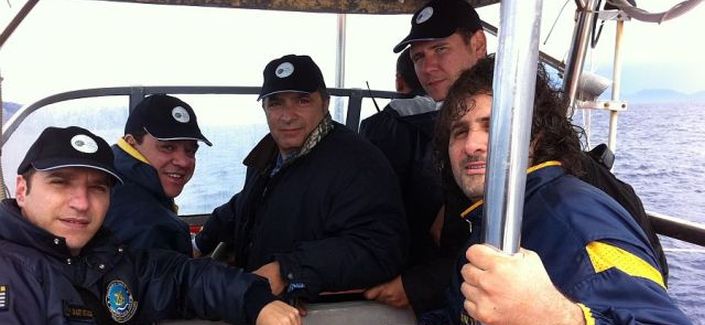 A HEALTH TREK ALONG THE BORDERS
OF THE SOCIAL MISSION CLINIC
We adopt Residents of Barren Islands and Border Regions
"APOSTOLI", the Philanthropic Organisation of the Holy Archbisphopric of Athens and Athens Medical Association in the crossing
1st Trek: Symi-Chalki-Nisyros-Kastelorizo
2nd Trek: Gavdos – Agathonisi – Leipsoi – Arkoi
3rd Trek: Anafi-Karpathos-Kassos.
4th Trek:  Lavara of Soufli – Kyprinos of Orestiada – Metaxades of Didymoteicho
5th Trek: Syros
6th Trek:  Chios – Psara – Oinousses
7th Trek:  Thira and Thirasia
8th Trek: Kissamos (Crete)
9th Trek: Leros
10th Trek: Konitsa
11th Trek: Patmos
12th Trek: Korytsa – Kastoria – Florina – Metsovo
13th Trek: Kythira – Antikythira
14th Trek: Irakleia – Schinousa – Amorgos – Donousa – Folegandros
15th Trek: Border Mountainous Karpathos – Kassos
16th Trek: Dervitsani of Argrorokastro – Kalpaki of Pogoni – Zitsa of Ioannina
17th Trek: Thirasia – Folegandros – Sikinos – Ios – Amorgos
18th Trek: Mytilene – Kalloni of Lesvos
19th Health Trek to Western Mani
20th Health Trek: Kissamos- Mountainous villages of Kissamos (Chania)
21st Health Trek: Didymoteicho – Orestiada – Soufli
22nd Health Trek:  Agathonisi
23rd Health Trek:  Kalloni of Lesvos
24th Health Trek:  Skyros
In a Health Trek Across the Borders following the establishment of the Social Mission Clinic for the uninsured citizens, the two bodies support the people living on the borders of islandic Greece by providing pharmaceuticals and hygiene material, adopting the problems of the residents of those areas, recording the needs of the local society and creating a solidarity bridge to help those people who feel as if they are living in a region of Greece that is forgotten.
With the message "You are not alone anymore. We are here for you" from the southeastern tip of Europe and Greece, the island of Kastelorizo on the borders, and the announcement the establishment of an Annex of the Social Mission Clinic at Kastelorizo,   the first phase of the Health Trek which started by the Holy Archbisphopric of Athens through APOSTOLI and the Athens Medical Association for the support of the residents of islands on the borders was concluded.
Our first step is the visit to islands that have only a rural clinic or no clinic at all. We offer to the residents of Symi, Chalki, Nisyros and Kastelorizo medicines and hygiene material, followed by Gavdos, Agathonisi, Leipsoi, Arkoi, Anafi, Karpathos and Kassos, Lavara of Soufli – Kyprinos of Orestiada, Metaxades of Didymoteicho, Syros, Chios, Psara, Oinousses, Thira, Thirasia, Kissamos in Crete, Leros, Konitsa, Patmos, Kastoria, Florina, Metsovo, Kythira, Antikythira, Irakleia, Schoinousa, Amorgos, Donousa and Folegandros etc.
Our aim is to promote in any possible way the health of suffering and uninsured citizens that are really in need of help and medical care wherever they are.
This initiative is included in the framework of the memorandum of cooperation signed four months ago by APOSTOLI NGO of the Holy Archibisphopric of Athens and Athens Medical Association to support people in need by implementing various prevention and medical social care actions in parishes and local communities.
Thousands of our fellow citizens at the Clinic, on the islands, around the streets stretch their hand asking for help: We should help them. And we should be the first to approach the ones that need us but do not know about us to ask for our help.